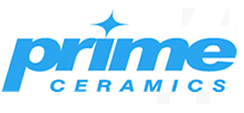 For Sales Enquiry -
079-29707277
Core Values
Prime Ceramics core values and Philosophy is what sets itself apart from the rest. Our Organizational culture is as follows:
Trust:
We work in an environment where there is straightforward communication and cultivate a reputation of honesty that allows us to have meaningful communication with our business & trade partners.
Respect:
We admire and appreciate each person's ability, perspective, experience and achievement.
Responsibility:
We take accountability for your actions and live with high ethical expectation.
Justice & Fairness:
We take decisions after considering market circumstances and try to make them right.
Safety:
Our primary thought and consideration is the safety of all employees, for customers and for the general public so that we make the world a better place for living.
Long- term Relationship:
We believe that having Long-term relationship with our business as well as trade partners is the key success factor that drives our business model.